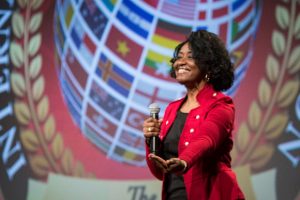 Lorna Blake is a John Maxwell certified Leadership Speaker/Trainer. She's also an international speaker who is loved by audiences everywhere she speaks.
Here's a small list of places/events where she's received rave reviews: First Unity St Pete Florida, Bahai Center at Clearwater Florida, Centre for Spiritual Living Toronto, Tropicana Community Services Toronto, The Miracle of Love Korea Conference at Korea Nazarene University- South Korea, The Ultimate Love Connection Conference in Sacramento California, Serenity Vista Center Boquete, Panama.
Testimonials:
"Lorna is a compelling and inspirational speaker and motivator! She engages her audience and gets them involved. Her high energy and positive attitude were amazing and she helped me and my staff focus on what is important! I would highly recommend Lorna as a Speaker. In fact, I can't wait to have her back to speak with me and my staff!"
Tamara Blum Cohen – Business Owner
"I was inspired by Lorna Blake's powerful presentation at a conference we were both speaking at!
She commanded the stage as she delivered her message.
And so I booked her to speak at my upcoming business conference…
-Clestine Herbert, Speaker/Event Planner
I was honored to have Lorna involved with The Miracle of Love Tour, and was a big asset for the Cheonan, South Korea event. She absolutely moved the audience with her insights and encouragement to another higher level.
Lorna is fulfilling her destiny of serving humanity and a blessing for us all…
Al Diaz, Speaker/Transformational Guide
Public Seminars and Workshops:
Overcoming Fear In A Fear-Filled World
Join Lorna for a powerful, thought-provoking experience that is relevant to this time…
In this interactive and engaging program, she shares how to stop fearing and start living.
Learn how to confront the fears that are robbing you of your joy, passion and peace.
Understand why ignoring the herd is often the best choice & explore effective strategies to feel the fear and yet move forward. You will leave this session feeling lighter and freer than when you came. 
"Your Money Blindspots"
In this life-changing presentation, Lorna Blake helps you quickly transform practical, every-day situations that would normally cause a lot of stress into opportunities of empowerment that enrich your life. We explore how to stop the money leaks that can be costing you your sense of inner self worth and ultimately your income. We learn how to stop discounting our worth and own our value with our fees or salary. Also how to create life-changing money boundaries that increase cash flow & self-respect in the process. We pinpoint the most common every-day money blind spots in your business or career and how to calculate exactly what it's costing you plus offers a strategy that solves this important problem. 
Email lorna@lornablake.com to book Lorna for seminars, workshops or events.